Lebron James is a loving father who wants his two sons to experience the success in sports he enjoyed.
In the James home, this means video games are an afterthought. Basketball practice is the priority. As James says, "You can't be great without putting in work."
This drive to succeed, though, is driving a wedge between James and his youngest son, Dom, who is talented at basketball but is much more skilled at designing video games. In fact, Dom believes it could become his career.
Then fate intervenes to bring them back together.
During a visit to the Warner Bros. studio, Lebron and Dom are captured by a villain inside a virtual reality computer system. That villain, Al G. Rhythm (Don Cheadle), then kidnaps Dom and challenges Lebron to an all-star-type basketball game.
If Lebron wins, then he and his son can leave. But if he loses? Well, they'll be trapped inside this virtual reality prison forever.
The new film Space Jam: A New Legacy (PG) tells this wacky story as James recruits the characters from Looney Tunes with the hope that they can help him beat the bad guy on the hardwood.
Here are four things parents should know:
Photo courtesy: ©Warner Brothers
1. It's a Sequel to a Groundbreaking Film
A New Legacy is a sequel to the 1996 film Space Jam, which was at the forefront of a new technology that allowed filmmakers to combine live-action and animation through the use of a "virtual set." This meant that Michael Jordan – the star of that first film – performed much of his lines in the middle of a 360-degree green screen set wrapped in motion-tracking markers. At the time, it was a little jaw-dropping to watch Jordan play a basketball game alongside legendary cartoon characters. Unfortunately for the filmmakers behind Space Jam: A New Legacy, such technology no longer thrills the average moviegoer.
Still, the newest film has plenty to like, partially because of its parallels to the plot of the '96 movie. Space Jam opened with a scene of a young Michael Jordan and his father – followed by scenes from his career. A New Legacy opens similarly, with a scene of James and his mother, followed by clips from his career.
Both movies include plotlines with (fictional) sports agents. Both films include everyone you loved from Looney Tunes, including Bugs Bunny, Daffy Duck and even Marvin the Martian (a favorite of James in the film). Of course, both movies also include basketball games with high stakes.
Photo courtesy: ©Warner Brothers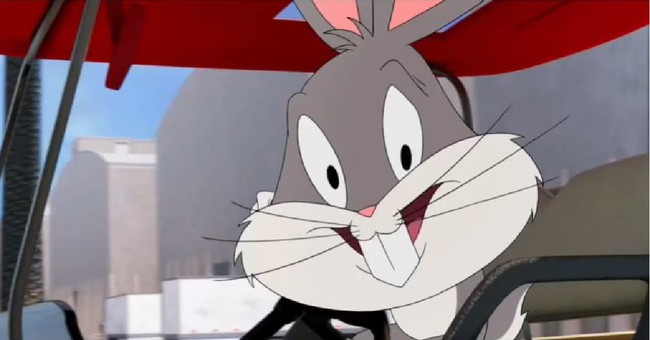 2. It's Silly but Still Fun
Space Jam: A New Legacy is entertaining as long as you know what to expect: Lebron James and Looney Tunes characters playing a basketball game in a movie with a thin plot. It's not as good as the first Space Jam – a movie that was aided by Jordan's brief career in baseball – but for children and basketball fans, it's two hours of fun.
Granny dunks from her scooter. Porky Pig (the Notorious P.I.G.) raps. Bugs Bunny dances to an M.C. Hammer tune.
TNT's Ernie Johnson and actor/comedian Lil Rel Howery help carry the back half of the film with solid (and hilarious) commentary on the game. (At one point, James' team trails 752-37.)
Photo courtesy: ©Warner Brothers
3. It's a Commercial for Warner Bros.
If a fictional character is the intellectual property of Warner Bros., there's a good chance you'll find them in A New Legacy – especially when James is recruiting players for his team.
Animated versions of Superman, Batman and Wonder Woman are in it. (Wonder Woman has multiple lines.) In fact, the entire Legion of Doom makes a brief appearance. Unfortunately for James, they're not available to play on his team.
You'll also see Trinity from The Matrix. And King Kong. And (briefly) Fred Flinstone.
But WB chose to include some of its less savory characters, too. We see Pennywise in the basketball crowd. And the zombie-looking White Walkers from Game of Thrones. And several other ugly creatures. Most of them are brief scenes, but it was an unwise addition that will frustrate some parents. Warner Bros. should have stuck to kid-friendly animated characters.
Photo courtesy: ©Warner Brothers
4. It Has a Solid Message for Parents and Kids
Lebron James wants his kids to succeed – and, if possible, to follow in his footsteps. Unfortunately, that's not what Dom needs. His wife tells him, "He doesn't need a coach. He needs his dad."
A New Legacy encourages parents to let their children's talents and passions drive their future – instead of their parents' hopes and dreams. Christian families can add another message to this lesson: Discover God's purpose for your life.
The film also urges children to respect and love their parents, despite their differences. (Dom, after he unwisely follows Al G. Rhythm, gains a new appreciation for his dad.)
A New Legacy earns its PG rating with a few coarse words (details below) and cartoonish violence. But if you can overlook that, then it's an enjoyable way to spend two hours of your summer, out of the heat.
Rated PG for some cartoon violence and some language. (Language details: d–n 1, h-ll 2, OMG 2, "son of a glitch" 1, unfinished "what the" 2.)
Entertainment rating: 3 out of 5 stars
Family-friendly rating: 4 out of 5 stars
Photo courtesy: ©Warner Brothers
---
Michael Foust has covered the intersection of faith and news for 20 years. His stories have appeared in Baptist Press, Christianity Today, The Christian Post, the Leaf-Chronicle, the Toronto Star and the Knoxville News-Sentinel.