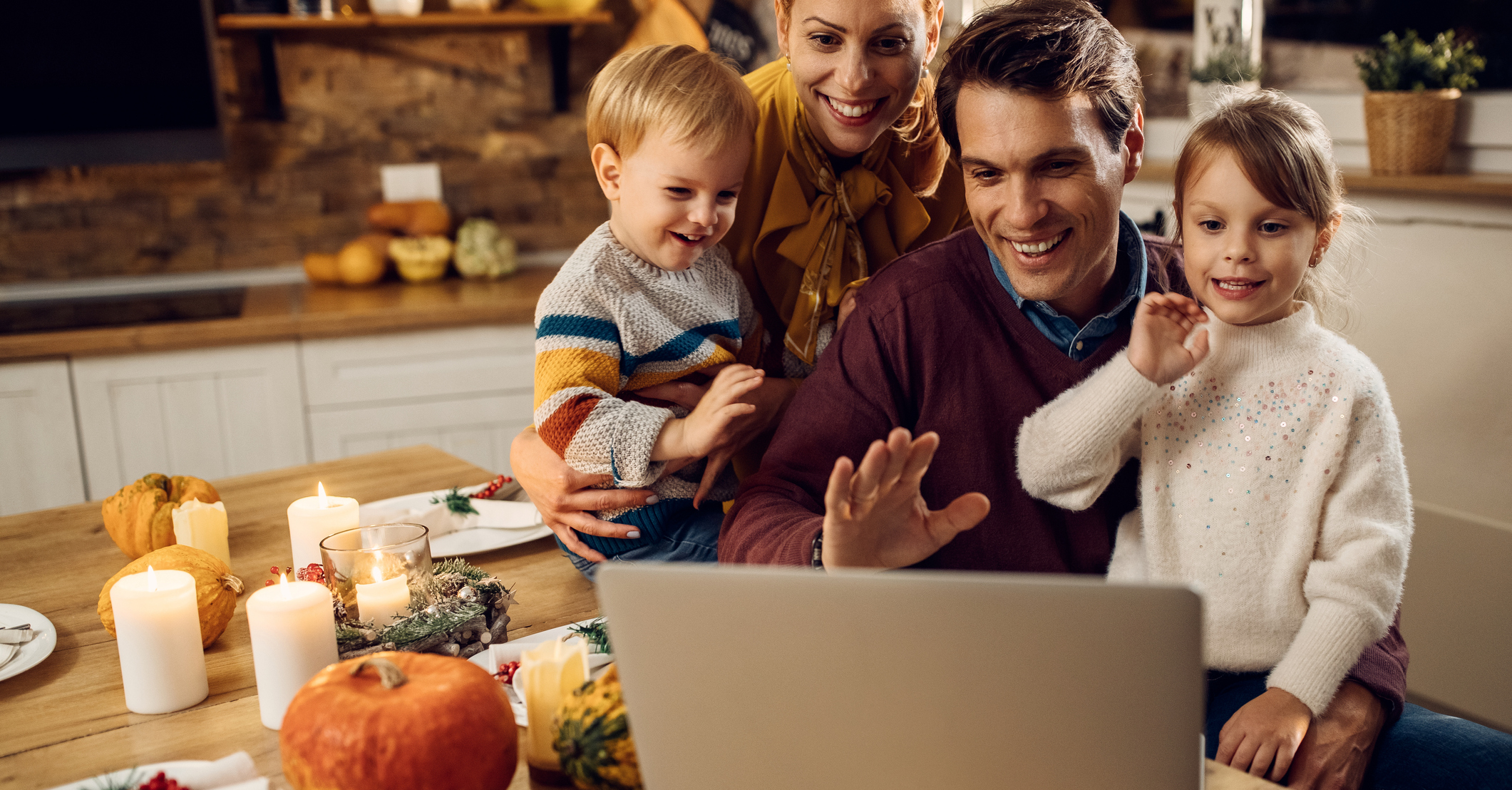 Thanksgiving this year for many will be one to remember, but for different reasons than we had originally planned for. This year many will be spending the holiday together, but virtually though platforms such as Zoom, Facetime, and Skype.
Despite the shift in plans, memories and long-standing traditions do not need to be canceled, in fact many will perhaps be even more sentimental than in years past, and perhaps a few new ones will emerge.
1. Spirit of Gratitude
The original Thanksgiving was one birthed from sincere gratitude to be alive and well, and that spirit of gratitude is so important more than ever. Video connection is something to be thankful for this year, and through the usage of video conferencing we can express our sincere appreciation for aspects of our lives both big and small.
This year has reminded us that in all things we should give thanks, even in the little details we took for granted in years past.
The Coronavirus has disrupted the norm that we all had become accustomed to, and it showed us that runs on products, a roof over our heads, and food on the table are no small blessing.
This shift in perspective has reminded us that we can in fact find so many things to be grateful for, and we can carry that into the years to come after this virus has passed.
2. Life Updates
For many near and far the opportunity to come together only occurs during the holidays, and that is when many give life updates.
Zoom can, in many ways, bring more people together, even if virtually, than ever before through connection through technology. In those calls, life updates can be given ever still.
This also opens door of opportunity for ways to pray for one another through authentic connection in sharing how life really is going.
Fearless authenticity brings down borders and invites doing life together in a new way, and through sharing life updates beyond the surface we can come together in unity to truly be the Body of Christ, we can lift up our brothers and sisters, and we can be reminded that we do not face this life alone.
3. Football Games
After the scrumptious meal and perhaps seconds on pie many flock around the television set to cheer on their favorite teams, and this is not limited to being together physically. Setting up the laptop or mobile device and tuning to the same channel can still provide an opportunity to watch the game together.
It will be different, but the end result can still be the roars of excitement that come from seeing touchdowns scored together, or the heart racing anticipation of who will win. Set a game plan for how you can root for your team together.
4. Enjoying Favorite Recipes
For many food in itself is a love language. The making of old recipes, or the forming of new ones to share with one another, and that tradition can still endure even in an age where we are not physically together.
Through some creative planning ahead of time, that age-old apple pie recipe, or Grandma's cranberries can be shared. Perhaps set aside time before Turkey Day to call the loved one you plan to video call and set some identical menu items that can be enjoyed.
Recall the memories on the call of the originator of the recipe, or of years in the past enjoying the meal, or even how it went about making the dish.
Recipes can still be shared together, and perhaps new ones creatively can be created in such a time as this.
5. Bible Reading
For many during Thanksgiving celebrations, there is a time of reflection on scripture through sharing of a passage.
Although Thanksgiving was not a tradition of the Bible, there are ample verses within the Word of examples of gratitude, thanksgiving, and rejoicing in the Lord. Choose a speaker to read passages aloud and provide time on the call for commentary, thoughts, or even sharing of times when you have seen the faithfulness of God.
Fellowship is not canceled this year!
6. Games
Often times families enjoy playing an old favorite game during Thanksgivings and the chefs in the family whip up the food. While board games may not be in the cards this year, many games can transform virtually to work.
Charades, trivia games, or even inventing a new game could work as a possibility and still provide that opportunity for memories to be made. Some platforms online even offer a way to play with someone in real-time on a tablet or phone, so take a moment to brainstorm ideas so that games are not lost in traditions for the day.
A thanksgiving blessing of the food through prayer is always a cornerstone of the meal. This is certainly a tradition that does not need to cease or be forgotten, for the blessing of Zoom and Facetime is the ability to converse together audibly as well.
This time of reverence to God more than ever is to be exemplified and carried out. Come together, even if you are states away, and richly indwell in His goodness and Spirit as you in pure of heart thank Him for your blessings.
What a blessing truly to live in such an age where technology can bring us together.
Traditions are sentimental mementos we share from year to year, but they are not canceled or limited to only being in person.
Perhaps in time you and your loved ones will look back and how together in unity you worked virtually alongside each other to still celebrate this upcoming holiday. Often times the greatest memories are birthed through the most unexpected circumstances.
We have spent the year pulling up our bootstraps and working towards a new tomorrow, but let's take a day to celebrate all we have and how far we have come.
Photo Credit: ©GettyImages/Drazen Zigic
Cally Logan is a writer and teacher from Richmond, Virginia. She graduated from Regent University. Currently, she is a writer for Dear Sparrows Ministry site, and the Podcast, "Dear Sparrows." In her free time, she enjoys leading a high school girls' small group, cooking, and spending time in tree houses. Her latest books, Dear Young Sparrow and Unveiled are available everywhere or at https://dearsparrows.com/.