You don't have to spend much time on social media to know that people have a wide range of emotions, opinions, and ideas about COVID-19. There are those who aren't feeling any strain at all and have enjoyed a stay-at-home order, while others have had their entire lives turned upside-down with devastating long-term effects.
The wide variety of experiences reminds me of a post I recently saw that said, "We may all be in the same storm, but we're not all in the same boat."
Because we're not all "in the same boat," it's easy to see why there are so many varied emotions surrounding this pandemic. One common emotion seems to be anger.
The problem though, is that it's difficult to be angry at the virus itself. And, while many are lashing out and expressing their anger towards our governing officials, others are expressing their anger at God. And that's the big question: Is it okay to be angry at God about COVID-19?
What Anger Really Says
We've probably all heard a fellow Christian say, "It's okay to be angry at God. He's bigger than your anger and He can take it." I agree that God is bigger than our anger and that He can "take it"–and he has grace for us–but that doesn't make it blameless to be angry with Him.
In fact, I would say we're sinning against God when we direct our anger at Him. While there is so much to be said on this topic, and many who could speak to this more eloquently than myself, I ask for a few minutes of your time as I share my thoughts.
Typically when we're angry at someone, it's because we're unhappy with something they did or said, or because we think they made a poor decision and we strongly disapprove of what they've done.
So, in the context of COVID-19, being angry at God is essentially saying that He has done something wrong or that we disapprove of what He has done. So this begs another question: Is it okay for us to disapprove of something God does or allows?
Remember that God Is Perfect, and Makes No Mistakes
What do we know about God? Matthew 5:48 is a good place to start, "You therefore must be perfect, as your heavenly Father is perfect." God is perfect. We know this to be true, but we often think of this in earthly terms.
For instance, you've just gotten married and you look at your life and say, "It's perfect!" But, in a matter of days (maybe even hours) your new spouse is getting on your nerves and you realize you have to redefine your idea of perfect.
Or, you've just been hired for a new position and you tell your friends and family how excited you are because this new job is perfect! Then after a few days the boss is acting more like a prison guard, the workload is more than expected and the pay suddenly seems inadequate, and you realize you were deceived; this job is far from perfect!
I think we tend to look at God and say, "He's perfect!" but we subconsciously leave room for disappointment and the need for redefining the term, because that's what we're used to doing in our everyday lives.
But that just isn't the case with God. We can't fully understand this side of Heaven, but He is perfection, in every sense of the word. He cannot fail, He cannot disappoint, He cannot be redefined.
If we find fault in Him, are disappointed by His actions, or try to redefine His perfection, the problem is with our perception and our hearts, not Him.
I recently listened to a panel discussion where someone asked how to deal with their anger toward God after the death of their unbelieving son. Dr. R.C. Sproul took the question, and his reply certainly applies to COVID-19. He said:
"Repent. Repent in dust and ashes. Crawl over glass in your repentance if you're angry at God. There's never been anything that's happened to you in your whole life, including this great tragedy, and most painful experience, that could ever possibly justify being angry at God. There are ten million reasons why He should be angry at you. God does not owe us a life without pain and tragedy. He has given us a life of grace and a promise of eternal felicity. And any being who does that for us, 100% graciously, can never righteously be the object of our anger; only of our gratitude."
These words might seem harsh, but how true they are. We're talking about a God who is perfect (Matt. 5:48), just (Deut. 32:4), holy (1 Peter 1:16), gracious and merciful, slow to anger and abounding in steadfast love (Ps. 145:8).
These attributes just scratch the surface of who God is. But "who God is" is the point. It is in knowing who God is that we know why we cannot, under any circumstance, justify being angry at Him. Likewise, then, we must also remember who we are: created beings who rely on God for every breath we take.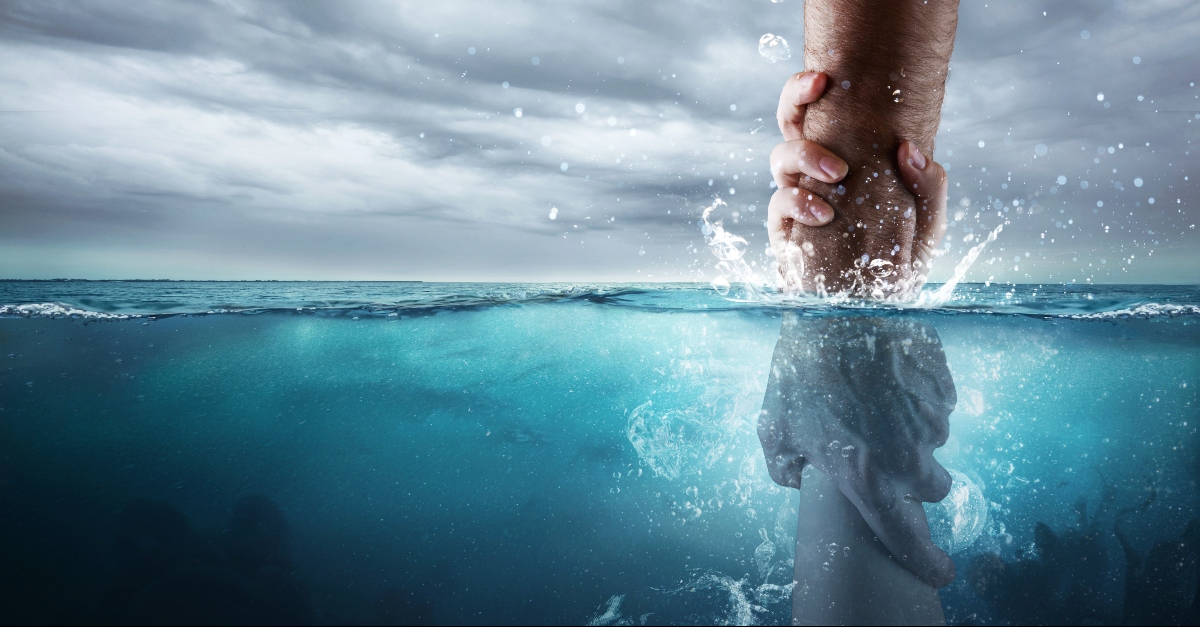 Photo Credit: ©iStock/Getty Images Plus/kevron2001
What Anger Says about God to Others
While our first concern should be about sinning against our Holy God, we should also stop and think about what being angry at God and pointing our accusing finger at Him implies to a watching world: that God can't be trusted and is capable of fault.
We should instead be communicating that we are angry and heartbroken over the effects of sin in the world, but that we serve and trust in the One true God who is sovereign even over this, and who will one day make everything whole again!
As His children, we should point to God and praise Him, even in the storm, not point at Him in anger because the storm has flooded our storehouses.
How Should We Process Our Anger, Then?
So then, what should we do with our anger? We should, indeed, take it to God! In other words, it's appropriate to express anger to God, but sinful to direct anger at God. Let's use Psalm 13 as an example.
We can and are invited to take our cares to the throne of God. We can cry out to Him and ask, "How long, oh Lord? Will you forget me forever? How long will you hide your face from me? How long must I take counsel in my soul and have sorrow in my heart all the day?"
We can tell Him about our struggles. We can ask Him questions. We can share our frustration with the effects of sin in the world. But we mustn't stop there.
Look at Psalm 13:5– 6. "But I have trusted in your steadfast love; my heart shall rejoice in your salvation. I will sing to the Lord, because he has dealt bountifully with me."
If you notice, while this Psalm is full of woe and despair, there is no anger directed toward God. Like the psalmist, we also must refrain from having anger toward our holy God.
We must instead remind ourselves that we trust in Him. We must fill our hearts with truth. We must rejoice in our salvation. We should sing to the Lord because He has dealt bountifully with us.
When our hearts are properly bent toward the love our Father has for us, and understand His infallible nature, we respond in gratitude and there is no room for anger towards Him. When it comes to COVID-19, we cannot blame God, but should rather trust our Father's heart that he knows exactly what He's doing.
As Isaiah 55:8-9 reminds us, "For my thoughts are not your thoughts, neither are your ways my ways, declares the LORD. For as the heavens are higher than the earth, so are my ways higher than your ways and my thoughts than your thoughts."
So, while it's okay to ask God questions like, "How long oh Lord?" we should also be asking ourselves, "How can I glorify God in my response to this crisis?" "How can I show the love of Christ to my neighbors?" "How can I reflect the image of God to a watching world?" "How can I live in this uncertain time and show, without doubt, that God can be trusted? How can I live a life of gratitude in light of gospel, even in these dark times?"
If you find yourself angry at God because of COVID-19, repent. Repent and tell of His greatness. Remind yourself of His faithfulness to His people throughout the generations.
Remind yourself that God is working through this situation in ways we may never, and don't need to, understand. We must remind ourselves of who God is and that He does all things well.
Keep in Mind These 2 Truths
1. We serve a God who takes sin seriously, so we should too.
We serve a holy God. Meaning he can't be in the presence of sin. Therefore, sin is the gap that separates us from God. He took this so seriously–ut of love for us–that he sent his son, Jesus, to die in order to bridge that gap.
I can't even wrap my head around how vile my sin is…so vile that the only way to make amends with my Creator was for him to put his own son to death. That truth alone tells me how seriously I should take my sin and how quickly I should be drawn to repentance!
2. We Serve a God Who Is Faithful to Forgive
1 John 1:9 reminds us that, "If we confess our sins, he is faithful and just to forgive us our sins and to cleanse us from all unrighteousness."
These words should fill us with unspeakable joy, humility, and gratefulness! According to Hebrews 4:16 we can draw near to the throne of grace with confidence, that we may receive mercy and find grace to help in time of need.
We must take our sin seriously. But, let us also rejoice in the goodness of our Heavenly Father and in the way he lavishes his love on us by being faithful to forgive when we confess our sin.
Let us draw near to the throne of God, let us approach him with confidence, let us praise him for his goodness and marvel in the truth of Romans 8:38-39, "For I am sure that neither death nor life, nor angels nor rulers, nor things present nor things to come, nor powers, nor height nor depth, nor anything else in all creation, will be able to separate us from the love of God in Christ Jesus our Lord."
Photo Credit: ©iStock/Getty Images Plus/AntonioGuillem
Beth Ann Baus is a wife and homeschooling mom of two boys. She is a freelance writer and author of novels, Sister Sunday and My So Much More. In her writing, Beth often pulls from her own experiences of abuse, anxiety, depression and OCD. Beth has a heart for women's ministry and is in the process of becoming a certified Biblical Counselor. She loves serving alongside her husband and pointing couples to the Word for strengthening their marriages and home life. You can find more from her at www.bethannbaus.com.