As a Pastor's wife and woman in ministry, one of the most common questions I get asked is "where is God in the midst of my suffering?"
I've been asked the question a 100 different ways but my answer never seems to suffice. Perhaps it's because when we're sitting in the middle of suffering seeing a light at the end of the tunnel is hard fought.
As we suffer we can begin to believe "I will always feel this weight, this pain will never recede."
My Personal Story of Suffering
My first experience with suffering took place the summer of my 13th birthday when my father and older brother were killed in an accident.
Before that summer I had just been a happy-go-lucky southern California kid. After the accident pain and grief marred my family, it changed the course of our lives, and yes—in fact—is still something that each of us grapple with to this day.
There are days that I re-grieve those losses all over again. There are moments when the sting of pain is more than I can bear, moments when I find myself absolutely shaken. And yet through that experience, and several others, I have learned a few things about suffering, two of which I keep at the forefront of my mind when I'm sitting with those who suffer.
When the question "where is God in my suffering" makes its way to me, I can confidently draw my friend's hand to her own heart and say to her "right here, friend" and mean it.
Deuteronomy 31:8 instructs, "It is the Lord who goes before you. He will be with you; he will not leave you or forsake you. Do not fear or be dismayed." This promise holds up for all of us even to this day, whether we are suffering the loss of a loved one, the loss of a dream or hope or even just grappling with the suffering of someone in our lives.
Even in the middle of our suffering God has not forgotten us, nor will he forsake us.
While I know this to be true, I also know that suffering, like any wound left untended to, can become infected. Suffering feels awful, and as such, sometimes we attempt to hide our pain or compartmentalize it.
I experienced this firsthand as an adult after the excruciating loss of my beloved Uncle. I didn't want to hurt anymore, so I pushed the hurt down and attempted to hide it away. It wasn't until I was experiencing the full-blown effects of post-traumatic stress disorder that I realized I had to get help.
It was in my therapist's office that I began to develop a perspective on suffering that set me on the path to healing. During that time I too asked the question, "where is God right now?"
Through many painful sessions the fog began to lift and I discovered that God had been with me the whole time and that he was going to use my suffering in ways I could not yet fathom.
If you are walking through a season of suffering right now, I pray that these two truths will help you not only begin to heal but that they will also illuminate the fact that God is with you and within you.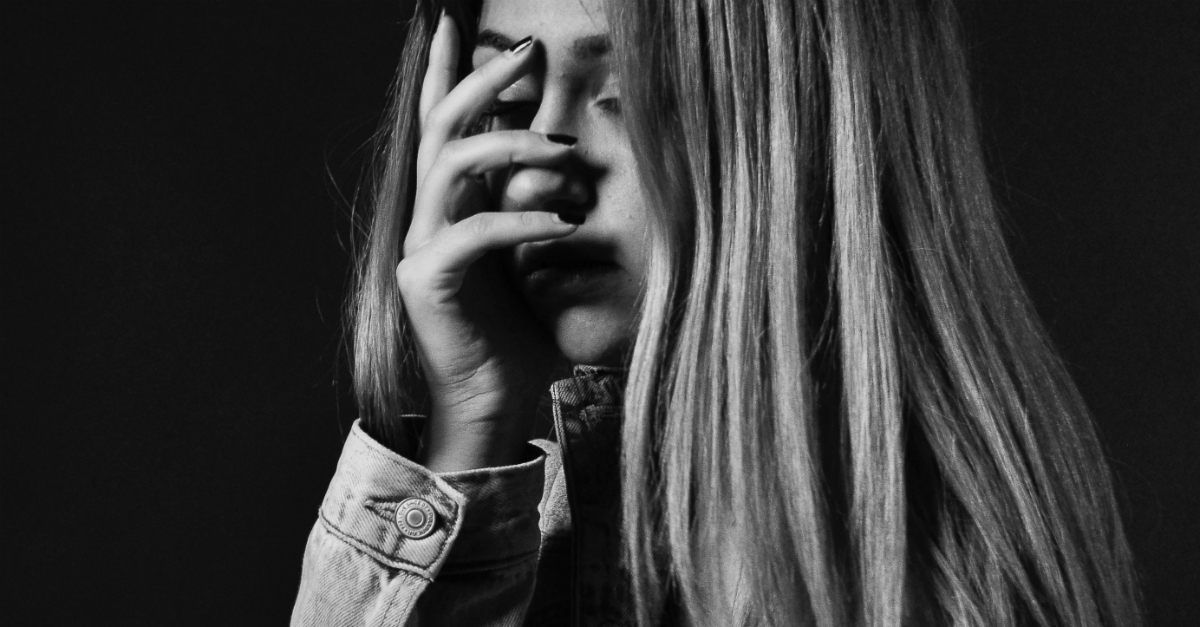 Photo Credit: ©Unsplash/Emiliano Vittoriosi
1. God Did Not Design Humanity for Suffering
Right at the very beginning of creation, in the book of Genesis, we see God creating the world and "it was good." Then God's focus was shifted to the creation of humanity. God creates humankind and "it was very good."
We were created as image-bearers of God's own divinity. The intent of our creation was not so that we would suffer but rather that we would dwell in divine communion with God. If we read on in Genesis we discover that God loved his creation and that He desired love in return. Knowing that "forced love" is no love at all, God in His infinite wisdom imparted mankind with free choice.
This means that each of us gets a choice in the matter; we get to choose to love God or not. As we see in Genesis 3 each of our choices, however, have consequences. Enter sin and suffering.
Understanding that our world this side of heaven is broken and that our humanity was never designed to hold brokenness brings to light our need for personal salvation and global salvation.
This can also remind us that even in the midst of our suffering we are loved, cherished and desired children of God.
Our God is not one to leave his children. He has no intention of abandoning us, not on our best day nor on our worst. He is with us always, beckoning us closer to him.
At the very end of Jesus' commissioning of the early believers he spoke these words: "Behold, I am with you always, to the end of the age" (Matthew 28:20).
As we sit in the discomfort of suffering, as we grieve and lament we too can take heart that God is with us always, and to the end of the age, and know that his plan—no matter what the suffering—is to bring us closer into his love.
2. Our Suffering Will Not Be Wasted
The apostle Paul writes to the early church in Rome stating: "Through him we have also obtained access by faith into this grace in which we stand, and we rejoice in hope of the glory of God. Not only that, but we rejoice in our sufferings, knowing that suffering produces endurance, and endurance produces character, and character produces hope, and hope does not put us to shame, because God's love has been poured into our hearts through the Holy Spirit who has been given to us" (Romans 5:2-5).
This body of believers was experiencing suffering firsthand. Those early Christians were ridiculed for their faith, arrested and persecuted to the point of death and yet Paul encourages them in their suffering.
He has the audacity to tell these Christians to "rejoice in their suffering." Rejoice!
I can't even imagine if someone were to tell me to rejoice in the midst of sorrow and suffering how I would receive that. I can't imagine I'd take it well, and yet right here in the middle of the New Testament that's the word.
Rejoice, and again I say rejoice.
Here is something that Paul clearly knew about God's character that we may need reminding when grappling with unimaginable pain—God does not waste, his character is not wasteful by nature.
This means that in God's economy even suffering can be used for good, even our pain can be redeemed.
I've experienced that redemption first-hand, the suffering I have experienced has not only developed endurance but also a deep well of empathy. This empathy allows me to sit with those who are suffering and to elicit vulnerability.
Sitting with those who suffer often allows them to grieve, grieving in community leads to healing, healing leads to wholeness and restoration. Rejoice!
On the path of restoration we can use our pain to help heal others who suffer. As Jesus promised in John 16:33, "I have told you these things, so that in me you may have peace. In this world you will have trouble. But take heart! I have overcome the world."
This world is often suffering-adverse. We want to avoid pain at all costs, I surmise for a reason as simple as it just doesn't feel all that great.
Despite this avoidance of pain, the reality is that in some form or another we are going to encounter suffering. You may not suffer firsthand, perhaps God has not allowed that in your life, but there is a high probability that you'll at least encounter the suffering of someone else.
When this happens, remember first that God has overcome the world—this includes suffering—and second that God has not abandoned, his beloved creation. Keeping our eyes on these fundamental truths can allow us to sit in and with those who suffer.
As we process pain through the lens of eternity we can also see the light guiding us out of that very dark tunnel. That guiding light might just be Christ himself calling us and beckoning us into a deeper relationship with Him.
So friend, hand on your heart, God is with you, even as you suffer, he is for you, and he will never abandon you.
Receive it. Believe it. Know it in your very being.
Photo Credit: ©Unsplash/Max Nelson
Rachel Baker is the author of Deconstructed, a bible study guide for anyone who feels overwhelmed or ill-equipped to study the word of God. She is a pastor's wife and director of women's ministries, who believes in leading through vulnerability and authenticity. She is a cheerleader, encourager, and sometimes drill-sergeant. She serves the local church alongside her husband, Kile, in Northern Nevada. They have two amazing kiddos and three dogs. Rachel is fueled by coffee, tacos and copious amounts of cheese. For more on her and her resources to build your marriage, see her website: www.rachelcheriebaker.com or connect with her on Instagram at @hellorachelbaker.