The situation has escalated in Ukraine as Russian President Vladimir Putin has seemingly begun to mount a full invasion of Ukraine.
Ukraine is set to introduce a state of emergency across parts of the country following the movement of Russian troops, and the U.S. has promised to begin implementing sanctions against Moscow.
The politics and details of the conflict are intense and complex, but here are four things Christians should know about the situation.
1. Ukraine is mostly an Orthodox Christian nation.
According to a recent Pew Research survey, nearly eight in 10 adults identify as Orthodox Christian in Ukraine. Ukraine has the third largest Orthodox Christian population in the world. Another estimate, released in 2021, showed that some 60 percent identified as Orthodox Christian, about 10 percent said they were Greek or Roman Catholic, and 1.5 percent said they were Protestant. Another roughly nine percent said they identify "simply as a Christian."
"Ukraine has become the epicenter of a global spiritual battle," said Pavel Unguryan, coordinator of Ukraine's National Prayer Breakfast. "Today, as never before, our nation needs unity, peace, and the authority of God's Word."
2. The latest developments come after years of conflict.
Just after Russia annexed Crimea from Ukraine in 2014, pro-Russian separatists claimed that the so-called Donetsk People's Republic and Luhansk People's Republic belonged to Russia. Donetsk and Luhansk make up the Donbas region in eastern Ukraine. The claim has led to fighting in the region between Ukraine's soldiers and separatists. Over the years, there have been cease-fires and attempts to agree on peace deals, but fighting has always resumed when one country has accused the other of violating the peace deal.
According to CNBC, about 13,000 to 14,000 people have been killed in the fighting in the Donbas region.
Russia had initially officially claimed that it is not supporting separatists, but critics say the country may have provided military hardware to the groups. Most recently, Russian President Vladimir Putin has ordered soldiers along the border in what appears to be for invasion.
This week, Putin ordered troops into the two breakaway regions and has recognized them as independent states.
"Really this only makes sense is if this is the start of something bigger and this is all just about trying to provoke the Ukrainians and the West into some illogical counterreaction, and what I think is really going on here, is that he is building the case for all-out war with Ukraine with the Russian population," said Timothy Ash, senior emerging markets sovereign strategist at BlueBay Asset Management.
Photo courtesy: ©Getty Images/Silent GOS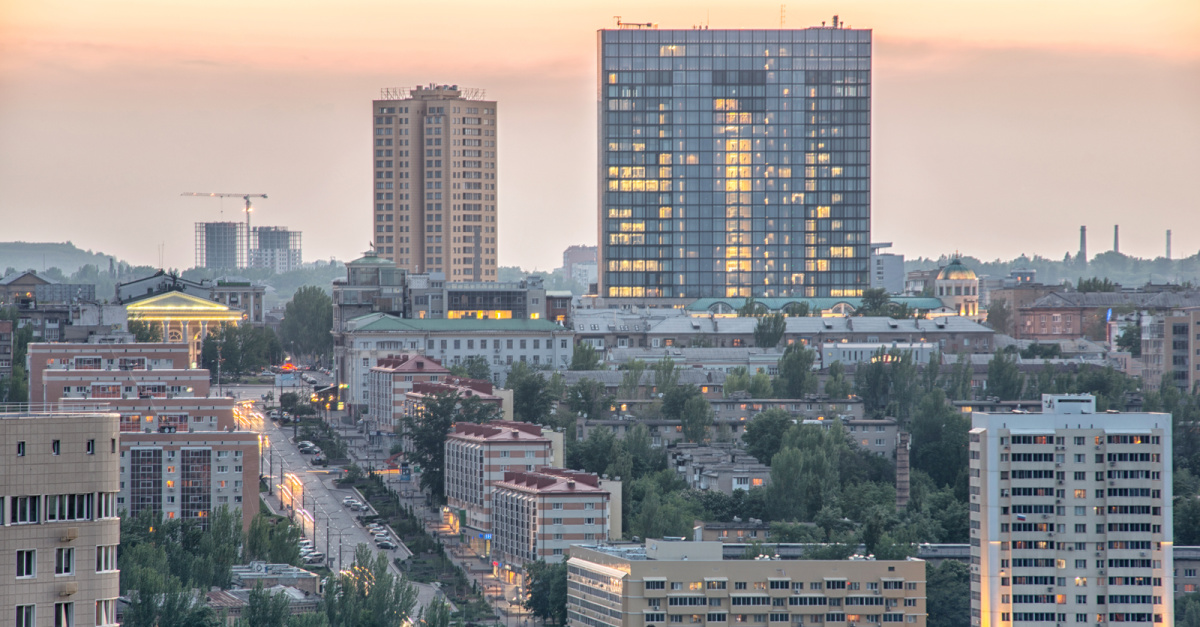 3. Some pastors in Ukraine say they will stay if war breaks out.
"Pastors in the gray area are not leaving the area," said Igor Bandura, senior vice president of the Baptist Union of Ukraine, describing the frontline. "Christians are determined to take an active part in the needs of the people around them."
Bandura said Ukraine's Baptist pastors have planted about 25 churches in the past five years. Many say they plan to turn church basements into refugee centers if needed, and members with medical backgrounds and volunteers are also preparing in case of war.
"Should there be chaos and confusion, the Baptist churches could be lighthouses in their community," said Elijah Brown of the Baptist World Alliance.
The All-Ukrainian Union of Evangelical Baptist Churches, the largest Protestant community in Ukraine, reports among its ranks 2,272 churches, 320 missionary groups, and 113,000 adult believers.
4. The two countries need prayers.
If Russia attempts to annex more disputed regions, it could lead to war. Christians will need to pray that a resolution happens without the violence of war.
"As many weigh the variables of this conflict through the Christian moral theory of just war and evaluate the merits of entering into conflict, Christians should pray for de-escalation efforts and the avoidance of a Russian-led invasion of Ukraine," an editorial from Kentucky Today said.
Others say they are worried that Putin wants to force the collapse of NATO and later take on other small countries.
"Make no mistake about it, if there is a war between Russia and Ukraine, it'll be a religious war," said Katherine Kelaidis, a historian and writer with Religion Dispatches. "The sooner those in the West recognize this reality and catch up on the details, the better."
Related:
World Powers Begin Issuing Sanctions against Russia as Officials Say Invasion of Ukraine Has Begun
Photo courtesy: ©Getty Images/Artfotoss
---
Amanda Casanova is a writer living in Dallas, Texas. She has covered news for ChristianHeadlines.com since 2014. She has also contributed to The Houston Chronicle, U.S. News and World Report and IBelieve.com. She blogs at The Migraine Runner.