You don't have to look too far to see people in every corner counting down to 2020 being over. Between the pandemic, racial injustice, political uncertainty, deaths of some of our favorite celebrities, and economic loss, we've all been affected in some way. Some of us have had to say goodbye to people we love dearly. Regardless of the context, that is never easy. But as we enter the holiday season, I want to shift the narrative that's persisted through 2020. I'm allowing myself to focus on what I'm grateful for — even the failures of this year, the suffering, and the hardships.
We were never promised a life without pain, and while this year has put more of it under a microscope, we still have plenty to be grateful for. We have an ever-faithful God to attach our hope to. Endeavors that led to dead ends have allowed me to pursue new and exciting paths that I might not otherwise have seen. The suffering and heartache of financial and relational loss has refined me and strengthened my faith. I've seen God working in all of it. His promise to us that He will provide remains true, even in what might be the hardest year of your life.
Here are four ways I've seen God's presence amid the pressures of the pandemic:
1. Stillness
I don't wish for a global pandemic to ever happen again, but there was a certain beauty about life slowing down earlier this year. My usual distractions and diversions weren't there and it afforded me a chance to recalibrate my focus and my priorities. It was a chance to either figure out or redefine where I place my identity and where I find my joy. I hope that was the case for you, too. But more importantly, the stillness provided space and quiet to hear from God more clearly and time to stop and appreciate the ways in which He was already working. We shouldn't need a pandemic to bring us to this point, but the truth is that many Christians struggle with what we're called to do in Psalm 46:10: "Be still and know that I am God."
We are constantly fighting this battle of looking more like human doings rather than human beings. We rush and run, hustle and hurry until we're too tired to keep going. We rest so that we can recoup and go do all over again. We do need rest, but instead of going back out and doing, the pandemic allowed me to take some time to just be with God, or just be as a person. I've probably taken more walks in 2020 than any previous year. With no sports scores to check or other events to follow, I've tried to be off my phone more this year, as well.
Oftentimes our instinct when horrible things happen is to cling to distractions like sports, entertainment, and social media. Sometimes we even defer to more wholesome activities like spending time with friends and family to fill in what should be time with God. For much of 2020, we simply haven't been able to do that. I hope we see the blessing in that. I love how John Mark Comer puts it in his book, The Ruthless Elimination of Hurry:
"We are distracting ourselves into Spiritual oblivion," he writes. It's time to recenter.
2. Reliance
The pandemic stripped us down in so many ways — personally, financially, socially, emotionally, and spiritually. Unemployment numbers grew more in three months during COVID-19 than in two years during the Great Recession, according to the Pew Research Center. As the pandemic raged on, nearly 53 percent of adults reported in mid-July that their mental health was declining compared to 32 percent in mid-March before shutdown orders were implemented, according to the Kaiser Family Foundation.
Many marriages and other relationships were significantly — even permanently — impacted as well. People lost loved ones. As with any hardship we face, we have the choice to either run from God or run toward God. Our response should be to run toward Him, regardless of the circumstances. It's not always easy, but this is what faith is.
God has shown time and again that he will take care of His people when we come to Him in faith. We don't know why pandemics or tragedies happen. It's tempting to be angry at God when things like this happen and run away from Him instead of toward Him, but we know suffering is part of this world. The only way I've been able to navigate this year and any season of pain is through relentless prayer and reliance on God to provide.
For a while, my wife and I weren't sure how long either of our jobs would hold up due to the regulations and shutdown orders. My wife is a mental health therapist, and at the time I was working in a marketing role for a small business. She was relegated to telehealth for a period of time, which lightened her caseload and income, while I worked from home in an unstable economic setting, unsure if our company's earnings would be enough to keep my job around.
The most dire situations have a way of breaking us down to where the only way we can walk is through the strength of Jesus — ceaseless prayer and relentless trusting that even when we can't see past the day, Jesus will provide tomorrow. A life full of prayer will lead to a life that is full. I know that coming out of this season, my reliance on God through prayer is stronger than it ever was entering it.
3. Faithfulness
Not that I needed any more evidence, but God has shown his faithfulness in a big way this year. Oftentimes when we go to God faithfully in prayer, he might respond in ways that we weren't even praying about. When you pray for a job, God might bring a career. He also might be telling you to wait. While that's probably the hardest thing to hear right now, trust that God is working.
Find contentment in the waiting, as it says in Genesis 8:22: "While the earth remains, seedtime and harvest, cold and heat, summer and winter, day and night, shall not cease."
Just as a seed is planted and needs time to grow into a harvest, sometimes so do our prayers. I love how Chris Renzema paints this image in his song, "Let the Ground Rest."
"So oh, just let the ground rest
'Cause if it's not right now, it's for the best
You're gonna grow, I know this
But for now, just let the ground rest"
The song continues:
"Flowers only grow once they've tasted rain."
We need to allow time for the harvest. Maybe we need to welcome the rain.
We have the confidence that the seed God plants will grow as long as we tend to it. He promises us that, and God never backs down from His promises.
Hebrews 6:13-16 says: "When God made his promise to Abraham, since there was no one greater for him to swear by, he swore by himself, saying, "I will surely bless you and give you many descendants." And so after waiting patiently, Abraham received what was promised. People swear by someone greater than themselves, and the oath confirms what is said and puts an end to all argument."
In the context of this verse, when someone made a promise, they needed someone greater than them to back them up on the promise. It's similar to when you have a parent or someone else cosign a loan on a house or a car. It's assurance to the other party that you will come through on the promise you've made. This passage demonstrates that God doesn't need anyone to cosign His promises. There is no one greater than our God, and He always comes through on His promises.
4. Relationships
I've gained a much deeper affection and appreciation for my family and friends this year. The importance of those relationships has been on full display in a year where so many of us have felt isolated. We were quarantined for much of the Spring, and because of that I've not seen my grandmother since March, my sister and her family since February, and my parents just one time since COVID-19 hit. For a while the only time I could see my family and friends was through Zoom or FaceTime. I hope this year has made all of us more intentional about maintaining the relationships that mean the most to us. I've prayed more and had more meaningful spiritual conversations this year with friends and family because of events that have happened, and I thank God for that.
Never have I felt more grateful for those in my life who I love and who love me. I know the next time we're together, I won't take for granted the time we have with each other. I've also been able to spend much more quality time alone with my wife Emily this year, too. Without sports or other distractions earlier this year, we were able to put our phones down and enjoy countless walks around the neighborhood and time around the house just talking and being with one another. We've spent more time in prayer, gotten involved in small groups at church, and have had to rely on each other so much more this year. Our marriage is stronger because of it.
The low-hanging fruit for 2020 is to complain about it and wish it away — to label it a "dumpster fire," as many have. My challenge to you is to instead write down what you're grateful for. Even the hard stuff. When we approach a fire, we have two choices: let it burn us down, or let it refine us like fire does for gold. Let's choose the latter.
Photo credit: ©GettyImages/MariaCasinos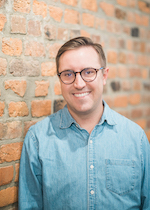 Cole Douglas Claybourn is a writer and podcaster living in Bowling Green, Kentucky, with his wife, Emily. Cole teaches high school English and is the host of the In No Hurry Podcast. His work has been featured in RELEVANT Magazine, Sports Spectrum Magazine, Outreach Magazine, Think Eternity, and USA Today. He enjoys telling stories of where faith and creativity intersect and sharing his story to help Christians navigate through their own journey. You can also find his work at coleclaybourn.com.