The news and images emerging from the fires in California are hard to believe. Skies have turned red, filled with smoke over cities and counties as "historic winds" have fueled multiple wildfires across the state. As the governor declares a state of emergency, families are evacuating to escape the flames, knowing they may never see their homes again. Livelihoods and businesses are being lost as firefighters and first responders do everything in their power to stop the spread of the fires.
If we have learned anything in the extraordinary events of 2020, it is how little we are in control, and how much of our lives and livelihoods rest in the mercy of our good and powerful God, who gives and takes away.
As you follow the news, lift up these prayers for the state of California, for the first responders with their lives on the lines, and for the victims experiencing such sudden loss.
Photo Credit: © Getty Images/Kara Capaldo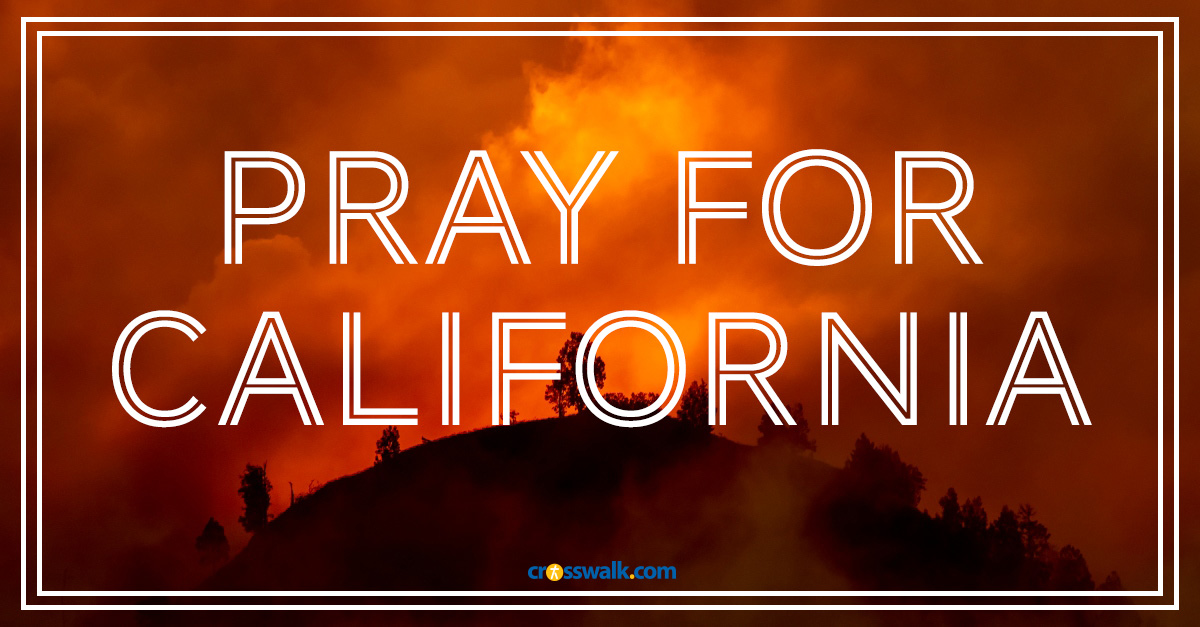 A Prayer for the State of California
Father, we know that you have appointed leadership and government for a specific time and place. Those in power are there because it is your will. We pray for leadership across the state to make the best possible decisions for the safety and welfare of California's communities.
Give them wisdom and speed as they delegate and make potentially difficult calls. May those in power trust you and look to you for guidance and strength, so that you might be glorified through even the most terrifying events, when tragedy and destruction seem to be in the driver's seat.
We pray, Father, for communities, for families, for neighborhoods, and businesses to look out for one another as these events play out. We ask that your spirit would pour itself out over the land, to protect the most vulnerable and in need, and see them to safety.
We pray that even in the most terrible turn of events that you would be recognized and trusted as good.
God, may a spirit of peace and faith in your strength and might win out over a spirit of fear. We pray that those on the ground, nearest to the danger and destruction would feel your guiding hand, and not succumb to terror. Provide the peace and faith that can only come with the work of your Son, Jesus, through your Holy Spirit.
"So do not fear, for I am with you; do not be dismayed, for I am your God. I will strengthen you and help you; I will uphold you with my righteous right hand." – Isaiah 41:10
Design Credit: © SWN/Bethany Pyle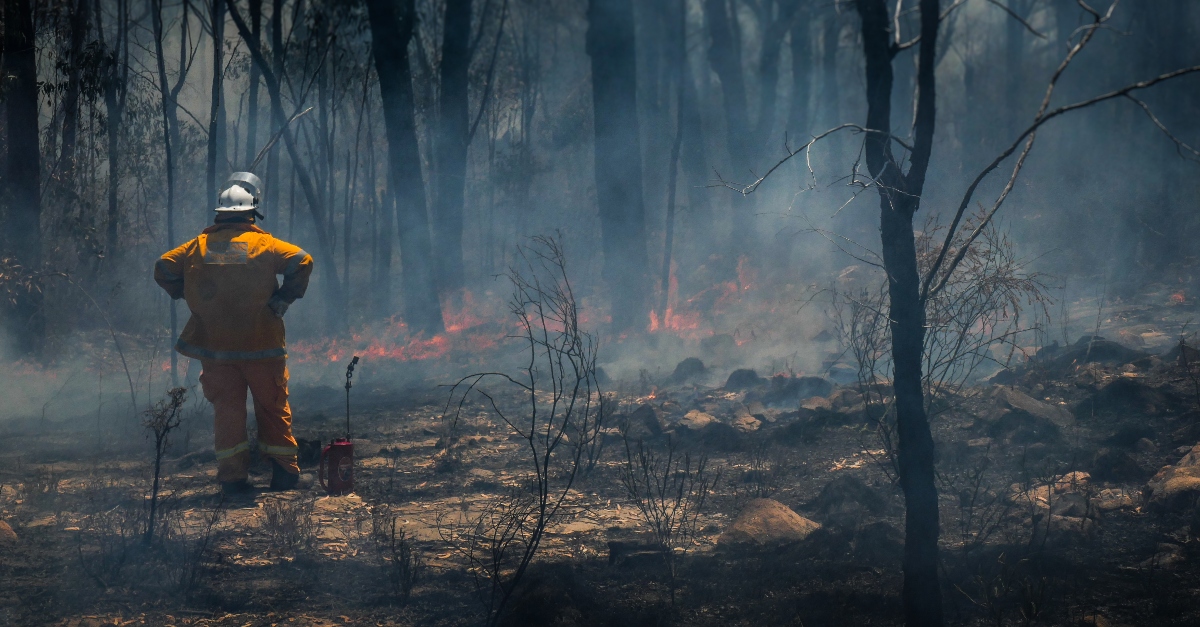 A Prayer for First Responders
Father, we thank you for the men and women who you have raised up to serve and work in the most dangerous circumstances in order to deliver safety and health to those at risk. Whether they belong to you or not, we thank you for their hearts that have chosen sacrifice and service over self-preservation.
Give them strength and courage, God. Give them endurance to keep fighting as they push back the threat of the fires spreading so close to cities and towns, engulfing homes and livelihoods.
We pray for the believers among the first responders, for those who belong to you that now find themselves on the frontlines of danger and risk. May they take heart knowing that the God who created all life, who holds this world and its suffering and joy in His hands, who tells the wind where and when to blow, that this same God lives and dwells in them, and that He will provide God-sized courage and strength when they need it the most.
We ask, God, that your children who are fighting alongside the lost to push back the flames, or the medical professionals delivering care and first aid to the injured, we pray that the light of your salvation will shine clear and bright through their words and deeds. We pray that in the middle of these tragic events, even as dangers increase and relief and rest seem far away, that you will be made famous for your mercy and deliverance.
You have shown yourself through your Word to be a strong tower of refuge and shelter (Psalm 61:3). Lord, in your mercy, reveal this truth about yourself to the firefighters battling the flames, and to those they rescue along the way.
May your children, and those you are drawing to yourself, come to know you as their deliverer, their Savior in the frightening events in California, even as the fires close in. You remain strong, on your throne, and among us.
"Be strong and courageous; do not be frightened and do not be dismayed, for the Lord your God is with you wherever you go." – Joshua 1:9
Photo Credit: © Getty Images/Stuart Shaw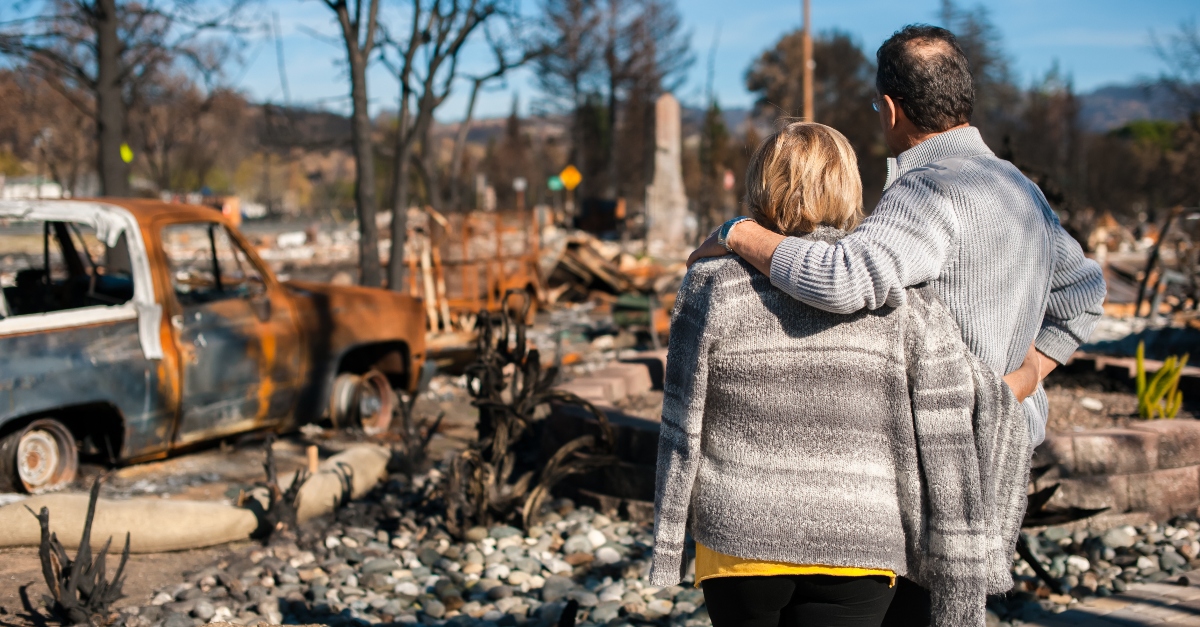 A Prayer for the Victims of the California Fires
Father, in a matter of hours, countless numbers of people's homes and possessions have been destroyed. Where life and laughter once took place, nothing but ashes remain. We pray for those who have lost everything they have known, all they have worked for. We pray for your provision for those who find themselves without shelter or a place to rest. In your mercy and provision God, may those who have plenty answer the call to provide for those who are without.
Soften hearts so that strangers will provide for strangers. We pray for room to be made for those who are displaced, whether they find shelter with family, friends, a church body, or strangers, soften hearts in the process, as you call on people to be your hands and feet, and meet the needs of those in greatest need. May those who serve the needs of their neighbor recognize that they do this not just for themselves or for their neighbor, but for you as well.
"For I was hungry and you gave me something to eat, I was thirsty and you gave me something to drink, I was a stranger and you invited me in." – Matthew 25:35
We pray for those who have lost loved ones to the fires. Most of us cannot imagine the pain and suffering such a sudden loss would bring. We pray that you would lead us, who watch from near and far across the country, to weep with those who weep, and mourn with those who mourn. Let us not skip over this important step of lamenting for what is lost as we feel the pains of a world that is not yet made right, and the effects of the Fall still spread with a powerful sting across our land, and through our lives.
For those who do not know you, who are not reconciled to you, Father God, we pray that this nearness to life and death would jolt them out of their sleep. May they recognize that you are Lord, that they live in the mercy of your will, and that a life separated from you is headed toward destruction. We pray you open their eyes to the truth of your Word, that their hearts may soften to receive your promises of a Kingdom that will not be lost in flames. May they put their eternal hope in the saving work of Jesus, and not in riches or material security.
Lord, you are the God of all comfort (2 Corinthians 1:3-5). We pray for the victims and the friends and families of victims to know and experience your comfort like never before. We pray they feel the comfort and reassurance of your presence, that they would trust and rejoice in your promises of new life and restoration found in your Word. Even as the fires continue to spread, may those experiencing loss worship you as they hope in your coming Kingdom.
"Are not two sparrows sold for a penny? Yet not one of them will fall to the ground outside your Father's care." – Matthew 10:29
"Blessed be the God and Father of our Lord Jesus Christ, the Father of mercies and God of all comfort, who comforts us in all our affliction, so that we may be able to comfort those who are in any affliction, with the comfort with which we ourselves are comforted by God." – 2 Corinthians 1:3-5
Photo Credit: © Getty Images/Vlad Teodor
Sarah Martin is the editor for iBelieve. She has previously enjoyed editing and writing for her alma mater, Christopher Newport University's newspaper, and for various ministry organizations. She has a B.A. degree in English and Writing and enjoys a good dive into British literature along with a strong cup of black tea.
---
This article is part of our Prayer resource meant to inspire and encourage your prayer life when you face uncertain times. Visit our most popular prayers if you are wondering how to pray or what to pray. Remember, the Holy Spirit intercedes for us and God knows your heart even if you can't find the words to pray.
Serenity Prayer
The Lord's Prayer
Prayer for Peace
Morning Prayers
Good Night Prayers
Prayer for Healing
Prayer for Protection
Prayer for God's Help
Prayer for Anxiety
Prayer for Strength