Footprints on our Land has just launched South Africa's first literature-based nature study curriculum.
Footprints Nature Quest, the brand new programme in the popular Footprints home education series focuses on natural sciences and geography with a strong emphasis on conservation.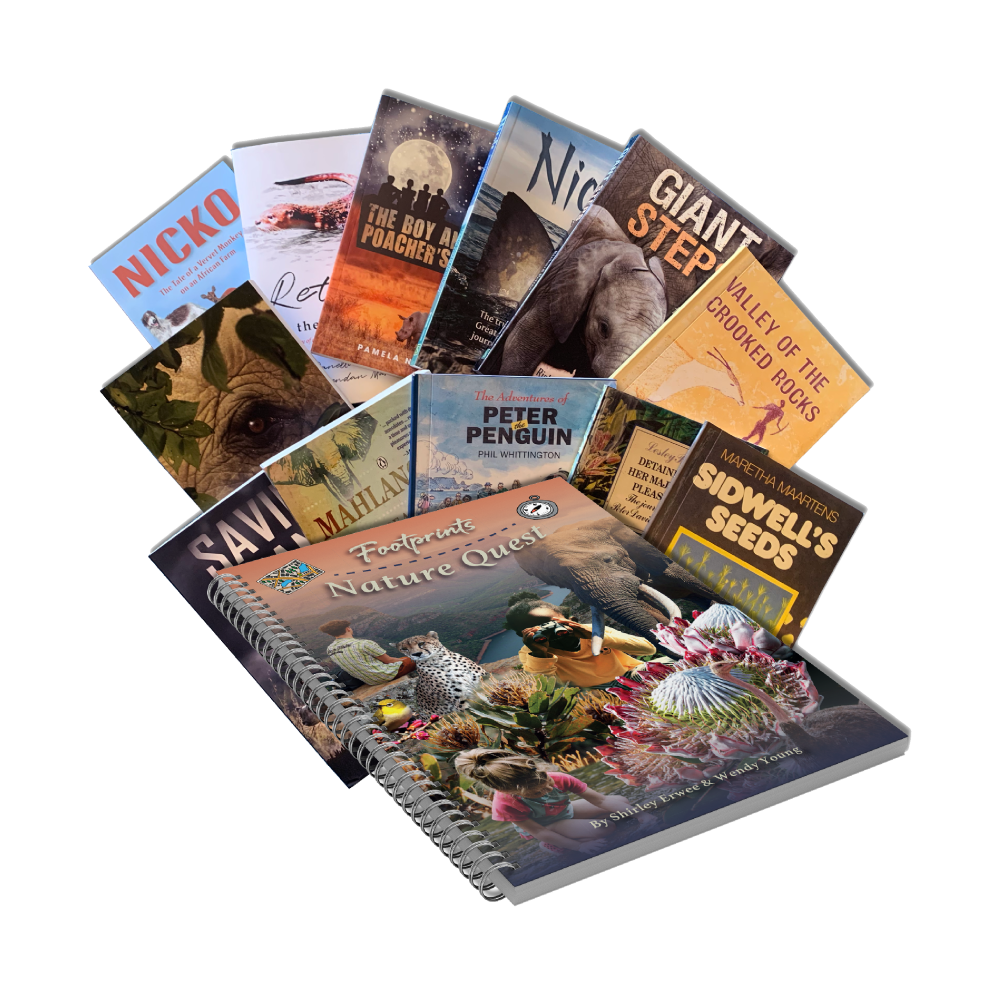 Using this programme, children will learn about the incredible biodiversity of South Africa's nine biomes, read engaging stories from each area and discover how they can protect South Africa's rich natural heritage from imminent threats!
Nelson Mandela said, "Education is the most powerful weapon which you can use to change the world."
Instead of traditional textbooks and workbooks, Footprints Nature Quest includes a careful selection of the best South African children's and youth fiction for families – to stir their emotions as they read aloud together. It presents stories about wildlife and life in the wild and highlights the threats that could harm the natural world in each area of South Africa.
It also includes biographies of South African scientists, inventors, eco-entrepreneurs and conservationists as well as magnificent colourful reference books.
Shirley Erwee, co-founder of Footprints explains that education is not so much about filling children's minds with facts, but rather it's about introducing children to topics and subjects that fascinate them, views and ideas that challenge them and great authors whose stories and experiences enrich their knowledge and thinking. It's about creating an atmosphere of learning where questions, curiosity, and real-world discovery are part of every family's culture.
Using "living" books and encouraging experience outdoors in nature, the Footprints Nature Quest programme takes families on a literature-driven safari from the oceans and coastal belts through the magnificent Karoo, the semi-desert Kalahari, the lush green forests of the Garden Route to the savanna of the bushveld. It delights parents and children alike with gripping tales about incredible journeys, about treasure, about rescue and survival and about careers in nature.
"We want to raise up a generation of young people who CARE about conservation issues and who are equipped to find solutions. We want to inspire each one to do what they can to make a difference for the community and their country!" explains Wendy Young, the other Footprints creator.
"We believe that learning should consist of great stories, rich conversations, purposeful work and an atmosphere of joy and delight that leads to a love of learning and a love for our country."
Footprints Nature Quest is available from the Footprints online shop.