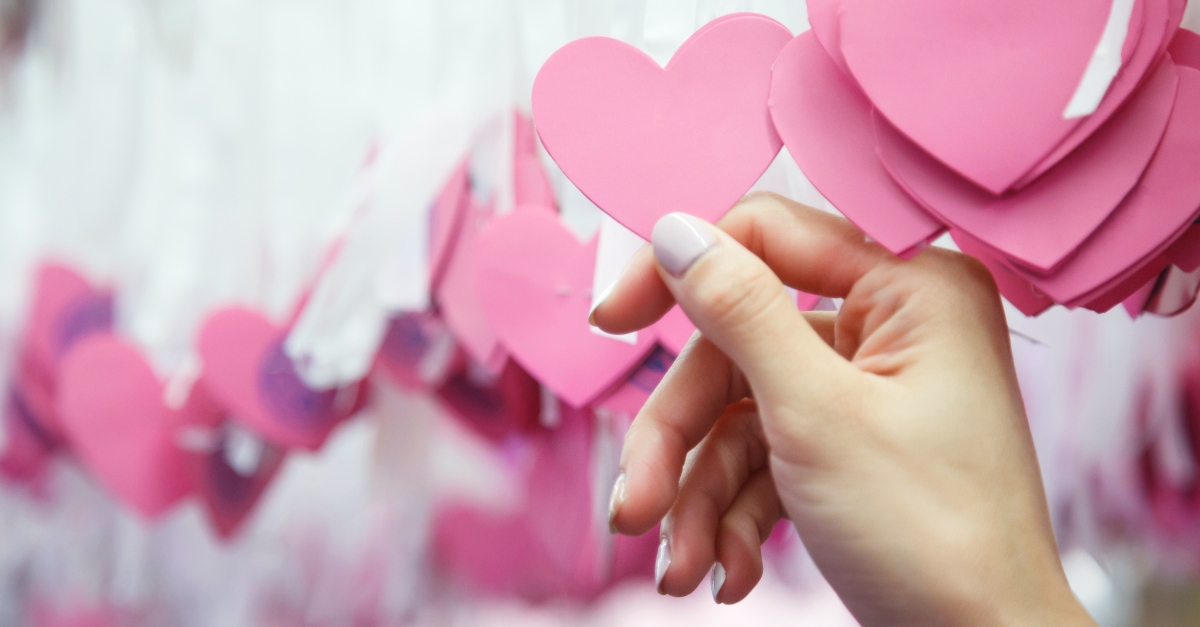 Valentine's Day is a day known for love, Valentine's cards, and chocolate. Many people have special dates or romantic getaways with their loved ones during this holiday. While this is a sweet holiday for those who have a lover, those who are alone this holiday may find it difficult. For those of us who are alone this Valentine's, this article is for you.
A person could be alone on Valentine's for a myriad of reasons. Maybe the person just went through a bad break-up, their loved one recently passed away, or the person may have never had a true love in their life. If any of these reasons resonate with you, know that you are not alone.
Even if we may be physically alone this Valentine's holiday, we are not truly alone because God is always with us (Hebrews 13:5). It can be sad when you look around and see other people happy with their loved ones and you are all alone. It just doesn't seem fair, does it? Why are some people happy while others are grieving losses?
Even though we may never have an answer on this side of heaven, we can know that God is working all things out for our good (Romans 8:28). Being alone can be quite depressing on a normal day, but even more on Valentine's. For every tear that you cry, God remembers each one that falls from your eyes (Psalm 56:8).
Many single Christians want to get married and have children; however, it is important to remember that God does not promise any of His children that they will be married, nor does He promise we will have children.
Many who are reading this might be disappointed by this fact; however, if you are highly interested in becoming married and starting a family, the best thing to do is to pray to God. If it is in His Will, it will happen.
However, if your prayer is not answered right away that does not mean God is directly telling you "no," as He could possibly be telling you to wait. If it is meant for you to be married, you will find the right person at the right time, yet if it is not meant for you to get married, you should not lose heart.
The one who will stay single should accept it (Matthew 19:11). Being married and being single both have their positives. In Paul's letter to the Corinthians, he tells the believers that whether they are married or are single, both are okay (1 Corinthians 7:1-40).
Marriage and singleness are both permissible for the Christian; however, being single is referred to as a "gift" by Paul (1 Corinthians 7:6-8). Many people might think it is odd for a person to refer to singleness as a "gift" because within Christian culture, singleness is looked down upon or seen as inferior.
Within personal experience as well as accounts told to me by others, Christian culture sadly views singleness in a bad light despite the Bible telling us singleness is a great gift from God (1 Corinthians 7:6-8). Christian culture promotes the idea that married life is the best life for a Christian and that a Christian is not complete without a spouse.
This is, of course, an erroneous view as the Bible tells us we are complete in Christ (Colossians 2:10). From the time a person places faith in Christ, they are whole. Maturity in a Christian's walk does not emerge from being in a relationship or getting married.
True maturity in the Christian's life is marked by an active relationship with Christ, development of the fruits of the Spirit, and an ongoing life that reflects the Lord. Being single is a great gift even if many people within Christian culture do not perceive it this way.
If a person remains single, they are going to be able to be fully dedicated to the Lord and serve Him first (1 Corinthians 7:8-28). If a believer is married, their first priority is going to be their spouse, not God (1 Corinthians 7:33).
Single Christians can serve God throughout their lives faithfully and give Him their full attention. Married couples can still be devoted to God; however, their first devotion is going to be their spouse rather than God.
You Are Never Truly Alone
Nobody is truly alone throughout their life if they never have a spouse. We are not alone because God is always with us (Isaiah 41:10; Joshua 1:9). God has also placed the Holy Spirit within us to comfort us, guide us, and direct us (Ephesians 1:13-14; John 14:15-17).
In addition to the unconditional and constant love, protection, and presence of the Father, Jesus, and the Holy Spirit, we have been given the company and love of our family and friends. God has blessed each of us with people in our lives that we love even though they are not our love or our spouse.
Sisters, brothers, mothers, fathers, cousins, and friends are just a few examples of God's love shining through people in our lives. Just because you do not have a love, or a spouse does not mean you are alone.
There are many women I know who are happily married to their husbands, yet their husbands are away often for long durations of time because their husbands work in the air force or the military. At these times, the wives can feel alone because their husbands are not with them.
Even though a person is married does not mean their spouse is going to be able to be with them at all times during the day. However, God is always with us whether we are married or not.
Just as God is with us as single Christians, so He is with married couples while their spouses are present and when they are away. The Lord will never leave us, and He will always surround us with His unconditional and abounding love.
New Ways to Celebrate Valentine's Day
If you are alone this Valentine's Day, you can still celebrate this popular holiday with your loved ones. If you would rather just skip the heart decorations, chocolates, and mushy Valentine's Day cards, that is perfectly okay too.
However, if you would like to celebrate Valentine's Day this year, you still can even though you are single. You can arrange a Galentine's with all of your female friends and spend the day doing things together, such as going out to a meal together, going to a craft workshop, or going to the movies.
If you would rather spend Valentine's with your family, you could do crafts together, bake cookies, or play board games for the festive holiday. One of my favorite things to do is to hand-make each of my family members a Valentine's Day card and buy them a small box of chocolates.
It not only brings joy and extends love to your loved ones, but it also provides joy to your heart. Therefore, if you are alone this Valentine's, rest in the knowledge that you are never truly alone as God is always with you and He will forever be your first love.
As Christians, we need to make sure that we never forsake our first love (Revelation 2:4). People may come in and out of our lives, but Jesus is always there. He will never leave you — not on Valentine's Day or any day.
For further reading:
What Is Valentine's Day and Is it Connected to Christianity?
How to Love More Than Just on Valentine's Day
Why Does Our Identity in Christ Matter More Than Our Marital Status?
Photo Credit: ©iStock/Getty Images Plus/Vichai Phububphapan
---
Vivian Bricker loves Jesus, studying the Word of God, and helping others in their walk with Christ. She has earned a Bachelor of Arts and Master's degree in Christian Ministry with a deep academic emphasis in theology. Her favorite things to do are spending time with her family and friends, reading, and spending time outside. When she is not writing, she is embarking on other adventures.