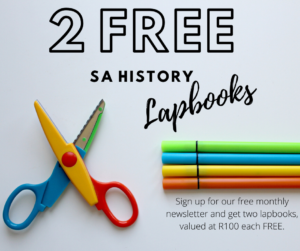 To support families who are home educating during a challenging time, we are offering you two free printable lapbook project packs, which focus on South Africa.
Traditionally, school children create theme books about the various people groups of southern Africa, but as homeschooling moms and teachers, we have realized that for younger children, even with help and supervision, this can be quite an overwhelming task.
However, a mini-book project enables children to work with small bits of information at a time and this is not as overwhelming as having to write a project from scratch. Children can work together on the same project too.
Even if you don't have cardboard file-folders or poster paper on hand, you can print the mini-booklets and enjoy cutting and preparing them for your final project later, or paste them onto the pages of a workbook. We are sure you will find a creative solution – South Africans are good at that!
1. THE SAN OF AFRICA
Use this printable file folder project pack to enhance your children's learning about the San / Bushmen people of southern Africa.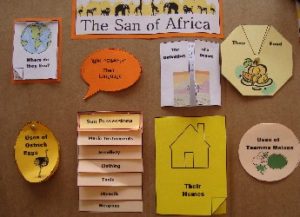 This file folder project pack (or lapbook) is aimed at children aged 7-11 and can be adapted for multiple age levels, commonly found in the homeschooling situation. It could be used in a homeschool co-op group or a traditional school classroom situation too.
This project focuses on a wide range of topics, including San homes, hunting, making poison, tracking, veld foods, water, crafts, rock art, religion and folklore, making fire, language, music, places to visit and so much more.
2. THE DUTCH AT THE CAPE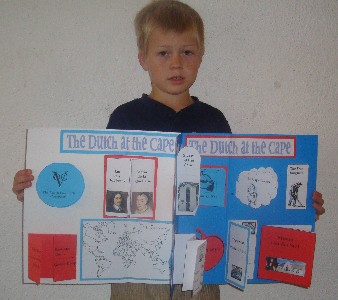 The Dutch were the first Europeans to colonize the Cape. Use this printable file folder project to learn all about the early days at the Cape settlement.
The file folder project includes the following topics:
The Cape as a halfway station, post-office stones, the Dutch East india Company, Jan van Riebeeck, the Company's garden, free burghers, beachrangers, slaves at the Cape, Cape Dutch houses, Simon van der Stel, Afrikaans – a Dutch legacy and more.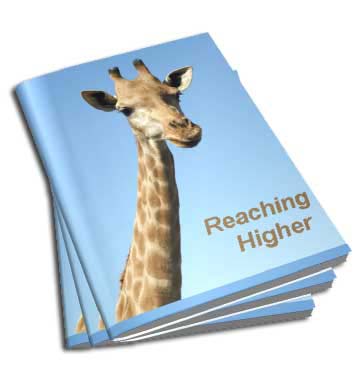 All you have to do, is sign up for our free monthly homeschooling newsletter, which we hope will delight and encourage you too.
Reaching Higher is a free homeschool newsletter to encourage and equip you as you help your children to learn at home.
We'll be bringing you the best tips, advice, articles, websites and encouragement we can to help you as you raise your young ones and build your family legacy!
SUBSCRIBE TO REACHING HIGHER HOMESCHOOL EZINE AND ACCESS THE FREE LAPBOOKS