We have thrown out the calendars for 2021. Teachers are getting back into their classrooms helping students remember to change the dates to the correct year. The gyms are full of people hoping for a fresh version of themselves. Genuinely, I have never had tremendous long-term success with a New Year's Resolution, however, one year I decided to participate in Lent and continued my goals long after. The difference was not the time of year or even what my goals were, but rather the posture of my heart. Today we will address how we as Christians should approach New Year's resolutions.
If I am being honest with you, it is not you or me who can achieve a new year of better habits and a healthier life. Any eternal success is solely up to the work of Jesus Christ in our hearts for His glory. As we embrace 2022, we can easily become discouraged when our "perfect track record" of eating healthy gets ruined by a night of pizza and ice cream. We can feel like we have lost when we accidentally slipped up on that bad habit again. There can be a lot of added pressure of performance if we are not careful. If you are looking for the perfect year, do not forget to look back and remember all of the previous ones. There is no perfect year because we are not perfect people. There is only a Perfect God.
It is wonderful to try to make the most of life and set goals however, when we place such high expectations upon ourselves, we forget that we are humans in need of a Savior. The pressure can easily cause a short set back to lead us to give up altogether. Approaching a New Year's Resolution in grace, provide us the freedom to be human and helps us not throw in the towel when we feel that we get off track from our goals.
Romans 3:23-24 says, "For all have sinned and fall short of the glory of God, and all are justified freely by his grace through the redemption that came by Christ Jesus."
Approach with Hope
There is so much noise in the world and within our own minds telling us that we "cannot do it." It is vital that we remain hope-filled in our efforts to live for Christ and honor Him in 2022. Renewing our perspective and hearts each day by studying the Bible, listening to the voice of the Father, and praying will help us to put on the mind of Christ.
I have an uncle who has chronic back issues. In recent years he has gone to a variety of doctors and specialists to see if they can aid him in his pain. One specialist has actually worked with him on refocusing his pain elsewhere and it has really helped my uncle. Many times, I struggle with endurance in exercise classes and want to stop often for a quick break. This week in Barre strength class, I decided to incorporate what my uncle does for his pain which is called Altered Focus technique. When I had pain in my legs or hips, I focused on my hands or somewhere else in my body that felt no pain. I can honestly say that it did provide me with relief and gave me more success in length of times for breaks.
In a similar way, with our goals, we can get bogged down with the areas of failure that we take long breaks in our efforts or quit. Take some time regularly to focus on other areas of your life that are going well and the ways that you are being used for God's glory. Just like we can physically change our outlook, we can also spiritually and emotionally redirect our thinking onto what is good and with gratitude. Having hope does not come without pain or set backs, but think of it as that consistent painless part that we can focus on to relieve our frustrations and ease our pains in this world. Jesus is our hope. We focus on Him.
Isaiah 40:31 says, "But those who hope in the LORD will renew their strength. They will soar on wings like eagles; they will run and not grow weary, they will walk and not be faint."
Approach with Accountability
If community is good enough for God Himself with Father, Son, Spirit, it is more than good enough for us. The Lord said it was not good for man to be alone. (Genesis 2:18) This was the first thing that the Creator said was not good, isolation. Sure it is ok to recharge on your own, however the gift of relationships are all around us. When we have New Years goals, these can easily remain personal. However, our success with those dreams increases when we invite others to champion us in them. Encouragement and prayers are beautiful gifts that people are desiring to give to others, but they need to be made aware. Who can you invite into your goals as a prayer warrior and accountability partner? It may be just one person, but having a friend or family member check in, lift you up, and speak words of motivation will help you in 2022.
We have spent so much of our time in quarantines and isolations, with hidden faces and distanced relationships. This has been necessary many times for the health of communities, but damaging emotionally and spiritually. Take time to pray and ask God how He can heal you from the time of pandemic and help you reengage relationships that may have undergone some negative effects. Press into the beauty of relationships this year and even create relational goals this year outside of your own individual ones.
Proverbs 27:17 says, "As iron sharpens iron, so one person sharpens another."
As believers in Jesus, it is vital that we take our goals and dedicate them to the Lord. We need to lay aside our selfish desires and ask God what His goals are for us this coming year. As we begin to set plans may we give ourselves grace in the process, never lose hope that we have in Christ, and invite accountability from others around us. Whether you have one word of focus for the year, a goals list, or just want to live surrendered to the Lord each day, approach 2022 saying, "Yes Lord, this is all for You."
Photo credit: ©GettyImages/Cn0ra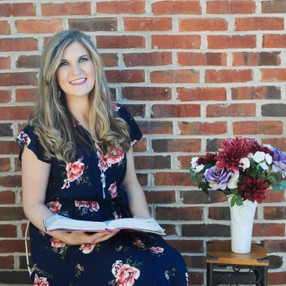 Emma Danzey's mission in life is to inspire young women to embrace the extraordinary. One of her greatest joys is to journey with the Lord in His Scriptures. Emma is a North Carolina resident and green tea enthusiast! She is married to her husband Drew and they serve international college students. She enjoys singing, dancing, trying new recipes, and watching home makeover shows. During her ministry career, Emma recorded two worship EP albums, founded and led Polished Conference Ministries, ran the Refined Magazine, and served in music education for early childhood. Currently, she is in the editing stages of her first two writing projects: a Bible study on womanhood and a non-fiction book on singleness. You can visit her blog at emmadanzey.wordpress.com