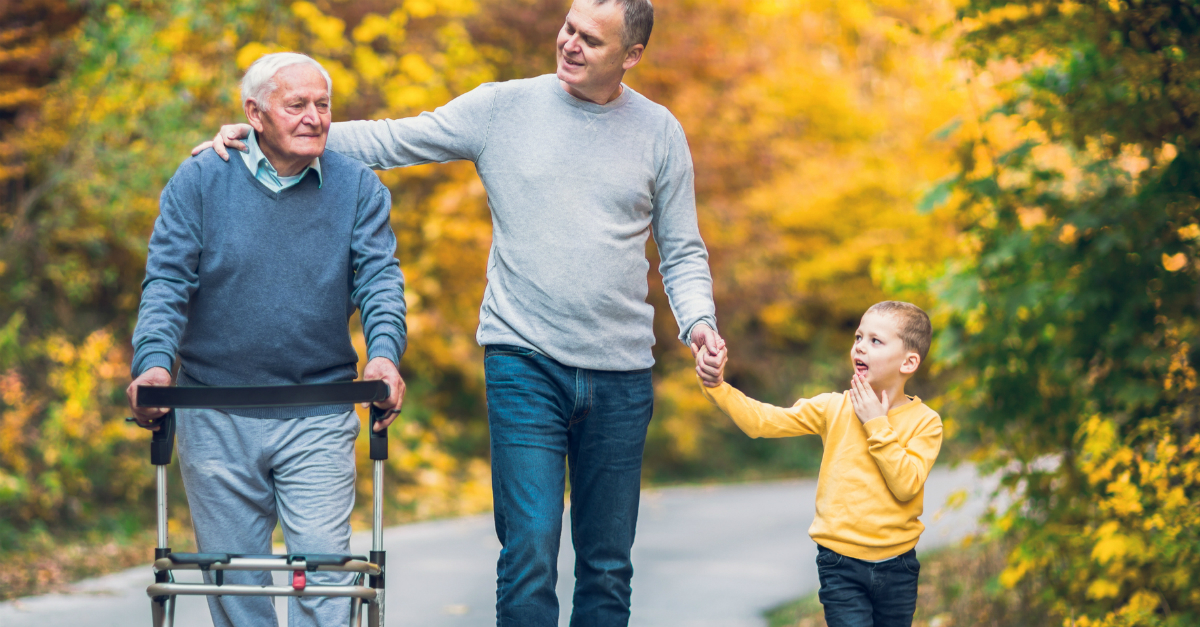 I remember long summer days picking green beans with my grandmother in the garden, sitting on the porch snipping the ends and preparing them to be blanched before freezing them. I remember sneaking out of the bedroom after my brother was asleep and curling up next to my other grandmother to watch late-night television with her—which consisted of Dallas, Dynasty, and The Lawrence Welk Show.
Then there were my grandfathers. One passed away before I was born, but the other was still around, so we played board games, talked, laughed, and wheeled around on his electric scooter together.
My mom told me stories about her days growing up with her grandparents, who lived across the road. Her grandfather was from Germany and spoke barely any English, and her grandmother was the woman who loved to garden, tend flowers, and bake.
Grandparents can play an integral part in the raising of children. They influence our lives with a family legacy in a way parents don't. They are the walking memory boxes filled with stories of the past that are merely shadows to us. They carry with them family legacy and tradition. All of which will be lost on their passing.
So as we consider grandparents and what they contribute to our lives and families, it's a good time to consider what meaningful questions to ask them before they're gone and before we look back and regret that we never took advantage of the opportunity.
1. Ask them about the family's spiritual heritage.
This will potentially open up fascinating doors as you learn about how the Lord did or did not influence the generations in your family. Some of you will not have been blessed with a strong spiritual legacy. Perhaps you are the first Christian in your family. Perhaps your parent is, but your grandparent has yet to take hold of their faith. On the other hand, you may be one of those whose family is rich with spiritual leaders and faithful believers—people who have invested their lives in following the Word of God and pursuing Him.
Regardless of the spiritual background, asking the question can inspire many stories. Stories of hardship, tribulation, faith, or bitterness. It will help shed light on why you view God the way that you do. It may help you interpret various convictions or moral standings your family has always held. It may even bring clarity to seeing a pattern of generational sin that still needs to be addressed. Or it may bring you closer to your relationship with the Lord when you see how lives that have gone before have been vigilant to pave the way for you and yours.
2. Ask them about their family history.
Aside from spiritual legacy, family history is also important. So many stories are lost in time, and knowing these stories can add depth and richness to the family heritage that otherwise would be missed.
I learned a lot about my family from my grandmother, and I'm thankful we had the hours to go through photo albums together and for her to explain who was who in the old sepia-toned photos. In fact, side note: if you have the chance, write the names in pencil on the backs or in the margins for future generations! I learned that my great-grandfather immigrated from Germany, that my great-great-grandfather was from Virginia aristocracy and lost his fortune in the Civil War, and that an ancient grandfather was quite displeased with George Washington and chose to fight against him at the Potomac.
I also learned practical memories, like why my family always keeps our chocolate chips in the freezer instead of the cupboard. Because, in the non-air-conditioned, super-hot, and muggy Wisconsin summers, they would store the precious and expensive chips in the icebox to avoid a monetary loss and food loss because of melting. Who knew? I still put chocolate chips in the freezer, but now I know why!
3. Ask the "why" behind family traditions.
Family traditions are typically known because they're, well, traditions. But do you know why your family follows these traditions? Outside of the more universal traditions, most of us have ones that are unique—or relatively unique—to our own families.
For example, my family always makes a gingerbread cake with homemade lemon sauce and whipped cream for Thanksgiving. It's tradition! But why? My grandmother always made it for Thanksgiving—mainly because it was one baked good she was good at making, and secondly because her mother did the same thing. Why? Because blackstrap molasses was easier to come by in the depression times, and a gingerbread cake went a lot further in filling up a tummy at Thanksgiving than a pie or a cookie. It was hardy food for an inexpensive price.
In retrospect, I probably won't push my daughter to carry on the gingerbread cake tradition because she's not a fan of it. But if she wants to, now we know where the tradition came from and why. Interestingly enough, now that she knows the history, a part of her really wants to like gingerbread cake now!
4. Ask what they want you to remember.
At funerals, we tend to remember specific things about the person who has passed on. Sometimes, we wish we'd asked them what they wanted us to remember or what they feel is the most important thing they can pass along to us.
I'm not sure why we think of this after the fact. There is nothing offensive in asking a grandparent what they wish to impart to us before we're separated one day. Many of them are aching to pass on legacy or wisdom or just want to know that they will be remembered.
By asking, we're valuing them. So ask.
Grandparents are a well-spring of memories and treasures. Whether it's spiritual wisdom, family legacy, traditions, or what-have-you, they can provide a lot of insight into where we've come from and shed light on where we're going. Unfortunately, with the busyness of life, we accomplish daily tasks without asking meaningful questions. We include them in our lives, but the day comes when we're looking at their image in a photograph and trying to recall what was so important that we failed to take the opportunity to glean from them the meaningful things. The important things.
If you are blessed to have a grandparent in your life still, consider making it a priority to ask these questions. Write down what you'd like to know from them. Ask them ahead of time if they mind having a conversation where you can ask them questions that are important to you. Odds are those same questions are also important to them.
We have treasures in our grandparents. At least many of us do. It may not be as rich and pleasant for those of us with more dysfunctional families. But sometimes, the question "Why?" isn't inappropriate either. Why are we like this? Why did this happen? Tiptoeing around the meaningful questions will often leave us void and empty when the grandparent passes away. So, store up those family treasures in your heart. Ask those questions. Be ready to be blessed, learn, and have your eyes opened to a wealth of family history.
Photo credit: ©GettyImages/Jovanmandic
Jaime Jo Wright is the winner of the Carol, Daphne du Maurier, and INSPY Awards. She's also the Publishers Weekly and ECPA bestselling author of three novellas. The Christy Award-Winning author of "The House on Foster Hill", Jaime Jo Wright resides in the hills of Wisconsin writing suspenseful mysteries stained with history's secrets. Jaime lives in dreamland, exists in reality, and invites you to join her adventures at jaimewrightbooks.com!